In 2016, Helen Hatzis passed away after an eight year battle with ovarian cancer. In an interview with Body and Soul before she died, Helen called cancer "a bitch of a disease" but said that her diagnosis really did crystallize how lucky I am to have these people in my life.
By "these people", Helen was referring to her husband, two children, parents, siblings, and friends. The support network that she sadly left behind when she passed.
On the occasion of Ovarian Cancer Awareness Month, the Greek Herald decided to pay tribute not only to this courageous woman but also to the people who supported her on her journey. We spoke to Helen's brother Nicholas Kalogeropoulos, who shares what it was like to see his sister fight ovarian cancer and how he dealt with losing her.
The difficult conversations:
In 2016, Helen Hatzis passed away after an eight year battle with ovarian cancer. Photo delivered.
In Australia, one woman dies of ovarian cancer every 8 hours, according to the Ovarian Cancer Research Foundation (OCRF). If a woman is diagnosed with ovarian cancer, the chance she'll be alive five years later is only 46%.
In Helen's case, she was diagnosed with ovarian cancer in 2008 and lived eight years afterwards. But Nicholas says when Helen battled her sixth occurrence of the disease, her attitude changed.
"What we found was that every time she went through remission over the years, the remission period kept getting shorter," Nicholas explains to the Greek Herald.
"Helen could see the writing on the wall because it was always down, not up. At the time, she wanted to have conversations about death and what would happen after she died. "
Helen and her husband John with their two children Georgeena and Nicholas. Photo delivered.
Nicholas says that he first tried to be the "Eternal Optimist" by encouraging Helen to focus on getting better. But a year before she died, he finally succumbed to the difficult conversation.
She was basically saying to me, 'I have to talk about death. I need to talk about what will happen after I leave. I need to make sure you keep the family together, "says Nicholas.
"Those were really, really difficult conversations with someone who was your older sister all your life."
'It was awful. Helen was our rock ':
Just a few months later, at the tender age of 51, Helen died in hospital. Her death, though not unexpected, left all her family and friends heartbroken.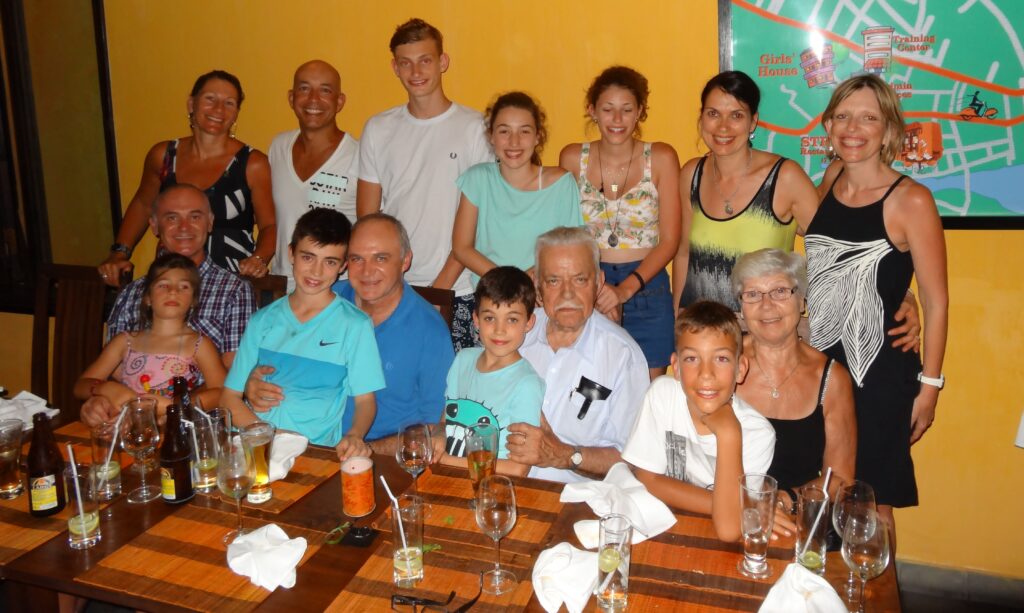 Helen and her family are on vacation in Vietnam. Photo delivered.
"It was terrible. Helen was our rock. She was the one that would hold the whole family together," says Nicholas.
"My mother just moaned. She couldn't understand why God would take her daughter and not her. My mom had it really, really hard to deal with … The last thing you want to do is bury your child. "
For others, it hurt most to know that Helen was going to miss important moments in the lives of her two children, Georgeena and Nicholas.
"Georgeena was about to turn 21 and Nicholas was about to finish 12th year of VCE. But unfortunately she died, I believe, seven days before he got his results. It was awful."
Reminder of Helen's kindness:
In the months after Helen's death, her loss was felt. Nicholas says her children and husband miss her very much. For his part, Nicholas is constantly reminded of his sister, even the smallest of things.
"As the years go by, it even feels so unreal at times. I could ride, I could be at a traffic light, I could look at a billboard and it will remind me of Helen. I'll just sit and think for a moment, you know, "says Nicholas.
It was important to Nicholas to find ways to memorize Helen in order to keep her memory alive. Because of this, he puts on a cocktail party called 35 + GST ​​every two years on her memory. His sister Christina and her extended family also formed the Helen's Hope Committee to honor their lives.
"Between my sister and me, I think… we probably raised about $ 60,000 for OCRF. It's just our way of remembering Helen. "
A woman who was clearly more than a patient with ovarian cancer. She was a wife, mother, sister, daughter, aunt and friend. Someone who, as Nicholas makes clear, will never be forgotten.
If you want to learn more about the availability of robotic surgery in advanced ovarian cancer, this is a resource to explore in Southern California:  Robotic Surgery Ovarian Cancer