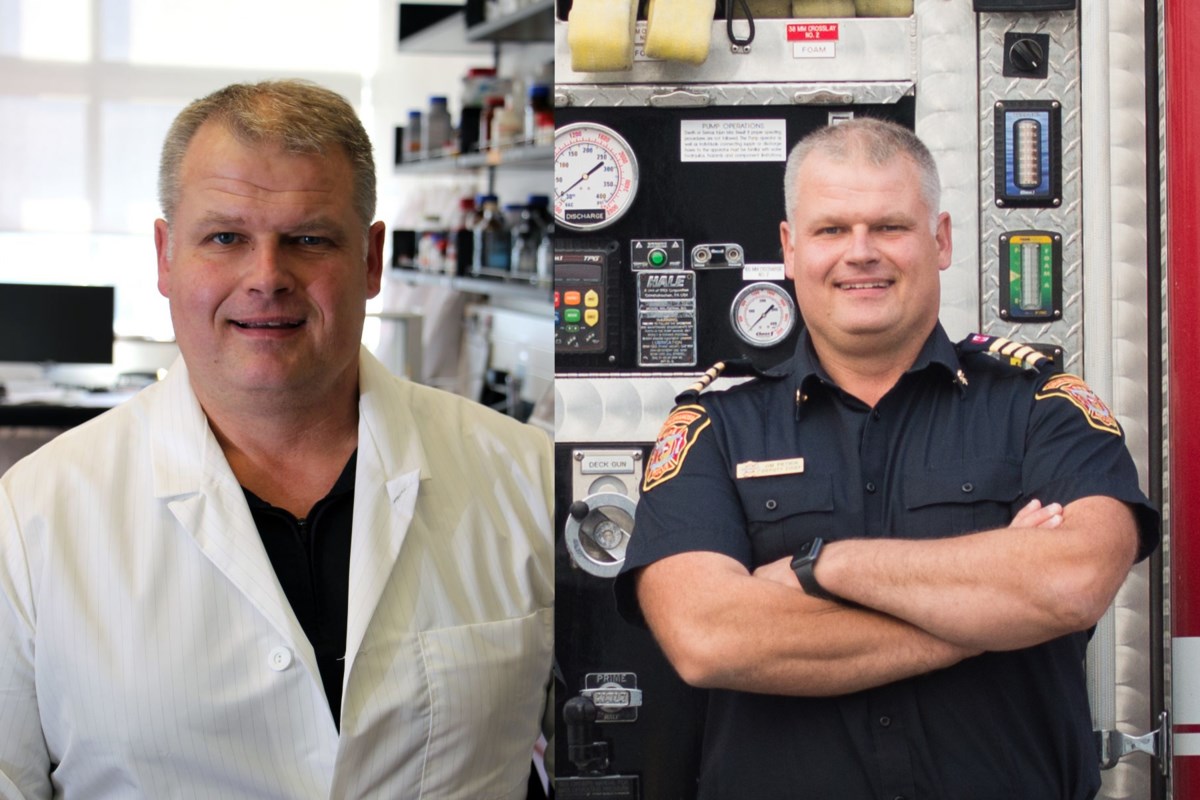 Jim Petrik sees some similarities in the roles that appear very different at first glance
There are probably few people who do the same job as Jim Petrik.
The Eden Mills resident balances cancer research at Ontario Veterinary College with serving as chief fire officer at Guelph Eramosa.
Petrik said his time at U of G began after receiving a PhD in molecular cell biology and becoming a professor in 1999.
At the same time he got into a stable living situation and was able to spend more time supporting the community.
"I've always wanted that, that's why I registered with the voluntary fire brigade and started working as a volunteer firefighter in 1999," said Petrik.
He has had success in both areas.
Petrik said his lab is working on therapies for women with advanced ovarian cancer that could be included in the clinical trial next year, depending on funding.
Although cautiously optimistic, he identified this as a potential game changer, as treatment options for ovarian cancer patients have not changed significantly in 40 years.
"It is such a difficult disease that is usually only recognized at a late stage when the therapeutic options are somewhat limited," explained Petrik.
"In our preclinical models, we were able to reverse some advanced metastatic disease and leave some animals disease-free."
He has also climbed the ranks from firefighter to captain to deputy chief at the Rockwood Fire Station and was the first chief of the Guelph Eramosa Fire Department a year ago, a position previously occupied by the Guelph Fire Department.
At first glance, the two roles seem very different, but Petrik said, in a way, that it isn't.
Both have a direct impact on people, but differ in the timeline
"We're very excited that we may have a significant impact on the lives of cancer patients, but the reality is that these things take a long time," said Petrik.
"If we in the fire department react to someone who is in a car accident and get them out of the car, we have had an immediate positive effect on the day. I love the split of it. "
There are also parallels to nurturing talent in others through leadership.
Petrik sees his role in both situations as creating an environment in which people can develop their maximum potential.
"We have great people in the fire department … they are selfless people, they dedicate their time to helping their community." Said Petrik.
"I also write scholarships in the research laboratory and fortunately we have very successfully received scholarships to run the laboratory. My job is therefore to create the resources that will enable my extremely talented students to work in the laboratory and work on these novel therapies. "
He said that people are sometimes surprised to hear that he has these two roles in addition to being the father of four boys, with comments that he must be very busy.
Petrik honors his wife Nicole to carry the burden when he has to attend to a phone call.
"She understands that people have a really serious problem and are counting on us to do it," Petrik said, thanking all of the firefighter's spouses who he believes are not getting enough credit.
"The sacrifices they have made are not trivial for us to help the community, and we just drop everything we do."
If you want to learn more about the availability of robotic surgery in advanced ovarian cancer, this is a resource to explore in Southern California:  Robotic Surgery Ovarian Cancer