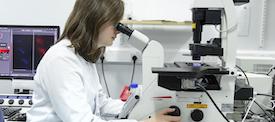 The newly established four-year PhD in Medical Sciences and Translational Research at the University of Edinburgh with Integrated Studies in the Engagement for Impact program will combine medical science and translational research projects with integrated and recognized teaching in science communication, public engagement, patient involvement, data design and computer science over established MSc courses and / or new commitment to impact courses.
Our vision is to teach a generation of researchers who are able to tackle and solve real-world problems through excellent science, and who have the engagement and impact skills that we believe will give them a head start in theirs future careers.
The influence of diet on pain in women with endometriosis
Endometriosis affects 1 in 10 women and is associated with debilitating pelvic pain and infertility [1]. There are no precise non-invasive biomarkers for endometriosis and diagnostic delays are common (~ 7–9 years). Current treatment options are limited to surgical removal of lesions (high recurrence rates) or drugs with side effects.
Health professionals and patients agree that there is an urgent need to develop new approaches that focus on symptom relief rather than surgery [2]. Women with endometriosis often investigate lifestyle changes (such as diet and exercise) to help relieve their symptoms. However, there is no evidence of effectiveness.
Recent work has highlighted a role for the gut-brain axis in regulating pain symptoms [3,4] However, this mechanism has never been studied in the context of endometriosis.
This project will test the hypothesis that diet and gut metabolites can affect the pain experience of women with endometriosis. The work program includes dealing with patients (surveys, focus groups) and metabolic profile data from plasma, urine and fecal extracts as well as training in data analysis. The results of the study will influence both the understanding of pain mechanisms and the development of patient-oriented dietary recommendations.
Superiors
This potential PhD project, which can be selected by successful applicants for this program, is being led by Professor Andrew Horne at the MRC Center for Reproductive Health under the direction of Professor Philippa Saunders (University of Edinburgh), Dr. David MacIntyre (Imperial College London) and Dr. Dr. Siobhain O'Mahoney (University of Cork)
Commitment to impact
The PhD student will join the EXPPECT team, a multidisciplinary group that includes clinicians, fellows, discovery scientists, research and clinical trials, and PhD and Masters trainees.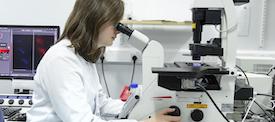 The team is committed to patients and the public. For the past 4 years, at the Edinburgh Science Festival, members of the team have featured, held research days involving ~ 50 patients and their families who have appeared on TV and in print media, worked with policy makers and patient advocates to raise the profile of endometriosis and improve the debilitating effects on patients' quality of life.
The EXPPECT team is active on social media. The subject of this project was strongly supported by patients. With the assistance of the public engagement experts at the Centers for Reproductive Health and Inflammation, the graduate student is expected to develop his own strand of public and patient engagement activities. This can include a website or other online platforms and / or other tailored educational / informational resources.
Patients identified the need for more age-appropriate educational tools for young people as an unfulfilled opportunity. There is an opportunity to conduct media training and participate in work that influences policy makers.
financing
This is one of the potential projects in the University of Edinburgh College of Medicine and Veterinary Medicine's new 4-year Doctor of Medical Sciences and Translational Research with Integrated Studies for the Engagement for Impact program.
Successful applicants choose their preferred doctoral project from the options available in consultation with the proposed supervisor.
Scholarships available through the program offer full tuition fees (domestic or international rate), a minimum grant of £ 15,000 per year, £ 450 per year for travel and conference expenses, a dedicated volunteer grant of £ 1,500 and £ 5,000 GBP per year for research costs.
How do I apply?
CLICK HERE to be requested before January 27, 2021.
References
Horne AW and Saunders P. SnapShot: Endometriosis. Cell 2019: 179; 1677–1677 e1671.
Horne AE et al. Top ten research areas for endometriosis in the UK and Ireland. Lancet 2017: 389; 2191 – 2192.
Lin B et al. Gut microbiota regulates neuropathic pain: possible mechanisms and therapeutic strategy. J Headache Pain 2020: 21; 103.
Muller PA et al. Microbiota modulate sympathetic neurons via an intestinal-brain circuit. Nature 2020: 583; 441- 446.
See also
The cornerstone of endometriosis treatment is a correct diagnosis and über-expert surgical treatment. Minimally invasive robotic surgery is the gold standard and you can discover more HERE.  This is your future and your future family.  Make the right choices after informing yourself.  Discover the options of robotic endometriosis excision and you won't be sorry.  You will probably be surprised about what makes a surgeon TRULY an expert in excising endo.  HINT: It is not based on how many cases they have done or slick advertising and training claims.